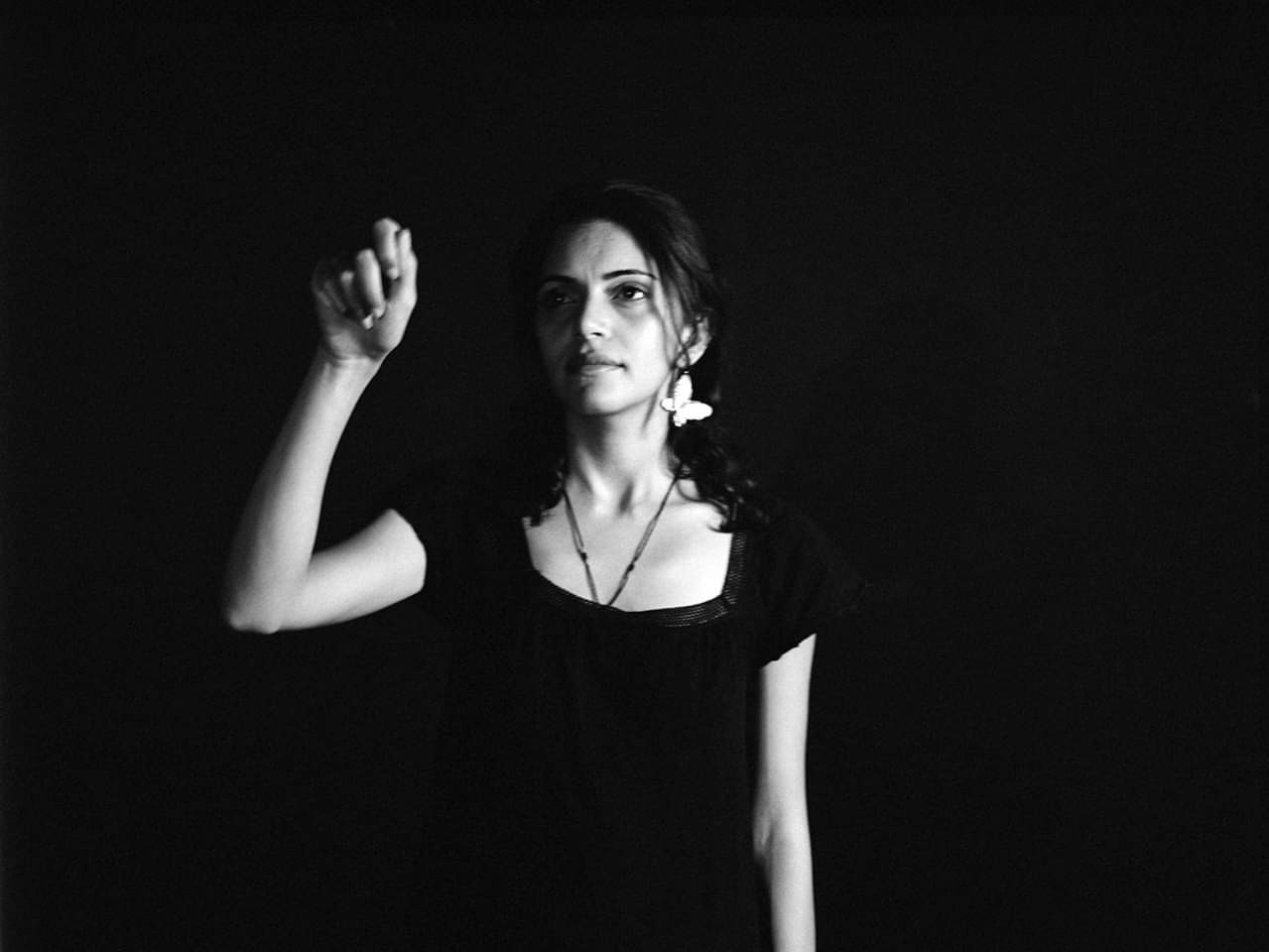 Ayat Ahmad is from Judaidat Artouz in Damascus countryside. She is a civil activist, she studied French Literature for one year and couldn't continue because she was detained in 2009. She left to Turkey in 2013 where she continued her activity in supporting women. She moved to France in 2015 and she is currently a member of SWPM
Ayat Ahmad participated in the demonstrations early in the revolution, which met an old desire she had for revolting against the corrupt and oppressive regime, after her first experience of detention when she was still very young. She was a college student in 2009 when she was arrested by the Assad regime, accusing her with the charges of "weakening national sentiment and infringing prestige of the state". She was arrested once again in 2012, after which the issue of detainees, especially female political detainees, became her cause which she says that she is willing to spend her life advocating it.
Ayat says that after the liberation of Ghota, Islamic factions took control over the area, which limited the movement of female and male activists. She was also under direct personal threat as an activist, so she had to take the decision to leave Ghota, and indeed, she was among the last convoy that was "smuggled" through al-Otaiba area out of Ghota, with the beginning of the siege of the area. The convoy included women, children, wounded people and defected soldiers. It was a scary journey in which they were subject to ambushes and bombardment, until she reached the north of Syria, where she moved between the citie of Azaz, Afrin and Jandires. She made acquaintances with people in charge of the media offices there and civil society organizations. Then she moved to Turkey where she worked for two and a half years with organizations and associations that support the empowerment of women, especially women released from detention, through developmental programs.
In 2015, Ayat decided to move to France, due to the difficulty in acquiring residency permit and other documents necessary for the future of her two children in Turkey. Today she is studying French in Toulouse in France, in order to continue studying journalism, in addition to her work in theater, which focuses on the cause of detainees and forcibly disappeared persons.
"Joining SWPM was the first political step I made, out of my recognition of the need to create national political awareness, independent from any agendas. Through SWPM I want to play my role genuinely and effectively in community and in the political arena as a Syrian citizen."
Ayat says that since the beginning of the revolution, she refused the term 'opposition' because it implies recognition of the regime. She insisted to use the word 'revolution', however she believes that this revolution was subject to a lot of abuse. She faced several challenges, including the subordination to foreign agendas, such as Qatar, Saudi Arabia and Turkey, which influenced the political work in general.
Her incentives to join SWPM, which she says was her first political step she made, were the recognition of her need to have enough national political awareness, independent from any ideology and away from any foreign agendas, in order to play her role genuinely and effectively in community and in the political arena as a Syrian citizen. She believes that after all of these losses the Syrian people suffered and the crimes perpetrated against them, like the use of chemical weapons and other violations, along with the silence and conspiracy of the international community against the Syrian people, Bashar al-Assad managed to achieve political victory.
Ayat says that she didn't face challenges in her political work as a woman, but she thinks that women face ready-made accusations within community. The vast majority of women in Syria is still living under masculine authority and the constrains imposed by religion and society. That is why she hopes that SWPM will be a nucleus to make a societal renaissance, out of her belief of the level of education and culture of all members of SWPM. This should lead to change on the long run. She also expresses her hope for SWPM to be the core for a feminist coup in the Syrian arena.
"I will spare no effort for fighting the regime with all available means. I will contribute to toppling it and all its ramifications, with drawing and drama, just as I am doing right now, with all possible means."
Ayat stresses her confidence that communication between Syrian men and women whether inside Syria or in any place in the world, will make a difference and will bear tangible results, if not now, then after some time. Those Syrians are gathered under one goal and they have similar dreams for Syria and they are open to improvement and learning new experiences. She relies on that so much.
Syria that I dream of is free from the Assad gang that governs everything, from schools to the grave. A new Syria ruled by law that applies to all, and that ensures freedom and social justice for all citizens. We are a people that deserves to experience democracy. Ayat says, 'personally speaking, I will spare no effort for fighting the regime with all available means. I will contribute to toppling it and all its ramifications, with drawing and drama, just as I am doing right now, with all possible means'.
Ayat says that the incident that reminds her of Damascus, was at the beginning of the Arab spring, which was the reaction of the Syrian people on 17 February, 2011. She was so happy then, because indeed, Damascus did it.
The most beautiful incident at a personal level during the eight past years, Ayat says, was the moment her brother arrived in France after a long suffering. He was arrested during the period when "Caesar" photos were leaked, as she was working with the team who documented the leaked photos. She lived very difficult time, until she managed to get him out of prison and smuggle him out to Lebanon, where he was kidnapped there by Hezbollah.
Recalling the worst incident happened to her, Ayat says that it was when she was detained in 2012, especially that she had previous experience with detention.
She says to the women of Syria "believe in yourselves, in your independence and freedom. Do not accept subordination to men or to society. You are on the forefront and not behind anyone. Hadn't women been to the side of revolutionists, the revolution wouldn't have continued until now."