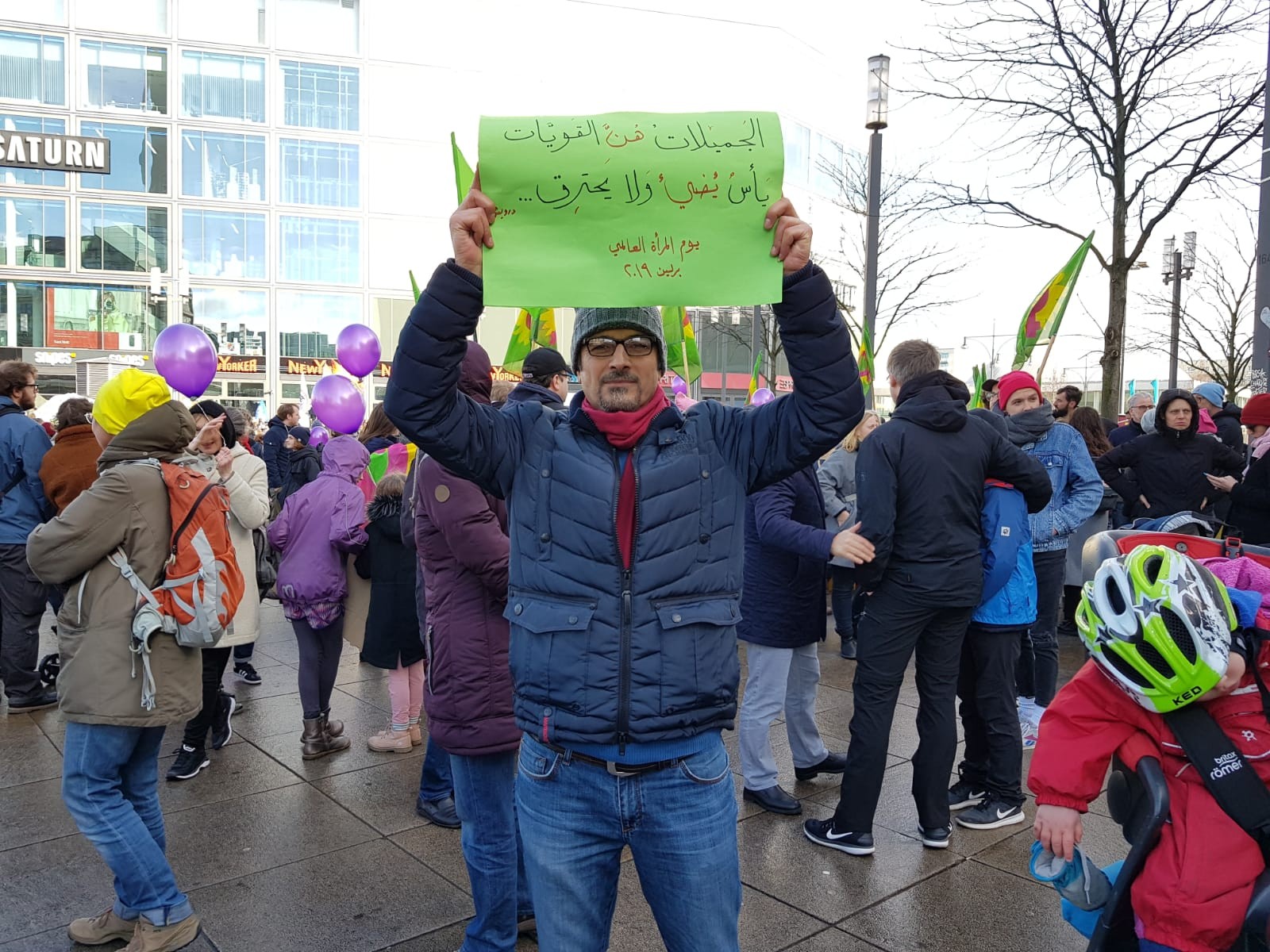 Maan al-Safadi was born in Quneitra and lived in Jaramana. He studied math in Damascus University. Member of the Communist Labor Party and one of the leaders of the diaspora branch of the National Coordination Committee. He left Syria in 2014 and is now living in Germany. He is a member of SWPM.
Maen al-Safadi participated early in the demonstrations of pro-Arab spring revolutions staged in front of the embassies of Egypt, Tunisia and Libya in Syria, which were faced with strong repression by the regime. Then he participated in the protests that were staged in demand of freedom and the fall of the regime in 2011, in addition to his participation in the relief work and the support of people who were displaced from other areas to Jaramana.
Maen had to leave Syria in 2014, after his wife got detained in 2013, as she was trying to get a clearance from the Migration and Passports Department, because she was heading to attend a conference in Geneva. She found that there was an arrest warrant issued in her name and her husband's name. Maen stayed in Jaramana for some time, but he was moving very carefully to avoid getting arrested by one of the checkpoints, because he was wanted by all security agencies. When he was about to turn himself in to one of the security branches after being summoned to it, his wife was released in a prisoner exchange deal between the Free Syrian Army and the regime. When she was released, she told Maen about her bitter experience in detention and that he must leave Syria immediately. Indeed, he was smuggled to Lebanon, then after a while his wife and children followed him. The family spent about one year in Lebanon, then they moved to Germany where their political asylum application was approved.
Maen joined the Communist Labor Party in 1980s, when he finished the high school. He started to participate in its student conferences at Damascus University. Since he was a member of the leftist opposition movement in Syria, he was under constant harassment by the security agencies. After finishing the military service, Maen preferred to focus on his professional career and he didn't continue studying. He worked in trade, then he joined the Communist Labor Party again, after being re-established in 2005.
Maen says that the repression practiced by Hafez al-Assad and his regime in the 1980s-90s against the Syrian people led to what he calls 'the political desertification' in Syria. After the eruption f the revolution, the biggest challenge that faced the political work was the internationalization of the Syrian cause and removing the decision from the hands of Syrians to create a wide opposition front under a national democratic umbrella. In terms of challenges facing women in politics in specific, Maen considers the severe masculinity all over the world at all times has always put women in a second degree after men, whether in religious or political positions. Hence, the work in politics was marginal. But in the Syrian context, women presence in political parties and the parliament was nominal, and those political parties and bodies didn't try to build women capacities to assume the poisitons they deserve to have. This is evident in the little representation of women in political active bodies. When they are present, they are always struggling to prove themselves, although they are no different than men, in terms of the academic education, culture and leadership capabilities in all areas. That's why everyone must contribute to supporting, training and educating women politically to be able to practice politics which is a write for her, just like men.
"The positive unique advantage of SWPM is that it has no taboos and only thinks about women who constitute half of the community, away from the religious and social constraints."
Maen says he joined SWPM because he believes that partnership with women will have a positive impact in all aspects, through learning from the experiences of women struggle and the ideas they provide, which enriches his political and intellectual knowledge, as well as his personal political experience. This should help men and women together to build a sound Syrian political experience. The positive advantage that SWPM has, Maen adds, is that it has no taboos and only thinks about women who constitute half of the community, away from the religious and social constraints.
Maen considers the increase in the number of applications to join SWPM a very good and positive indicator which will have its echoes in the future, through having women in decision making positions.
Maen thinks that some of the challenges that need to continuously work on, to realize the goals and principles of the revolution in his point of view include how to revive the Syrian identity and build the Syrian individual after all of the divisions that affected community in the past years, in addition to finding a way to choose non-fanatic currents that see Syria in the eyes of all of its people, rather than seeing it by a narrow vision.
"Struggle, because political struggle is needed and establishing your rights is needed, whether in constitutions or even in communities, because you are half of the community and all forms of discrimination should be eliminated between the components of one community."
Maen says that his work in the public affairs has always been a passion rather than a job or a duty that he has to do. That's because he seeks to contribute to building a healthy society for the coming generations. He dreams of a unified and democratic Syria, whose citizens are equal in rights and obligations, Syria free of repression with separation between the state and religion; Syria for all as it has always been through history.
Maen Says to the women of Syria: "I hope for Syrian women to acquire their rights fully and to work hand in hand to build the future of Syria. Do not waver any of your rights under any circumstances and despite all challenges and constraints imposed upon you by the society. Struggle, because political struggle is needed and establishing your rights is needed, whether in constitutions or even in communities, because you are half of the community and all forms of discrimination should be eliminated between the components of one community."