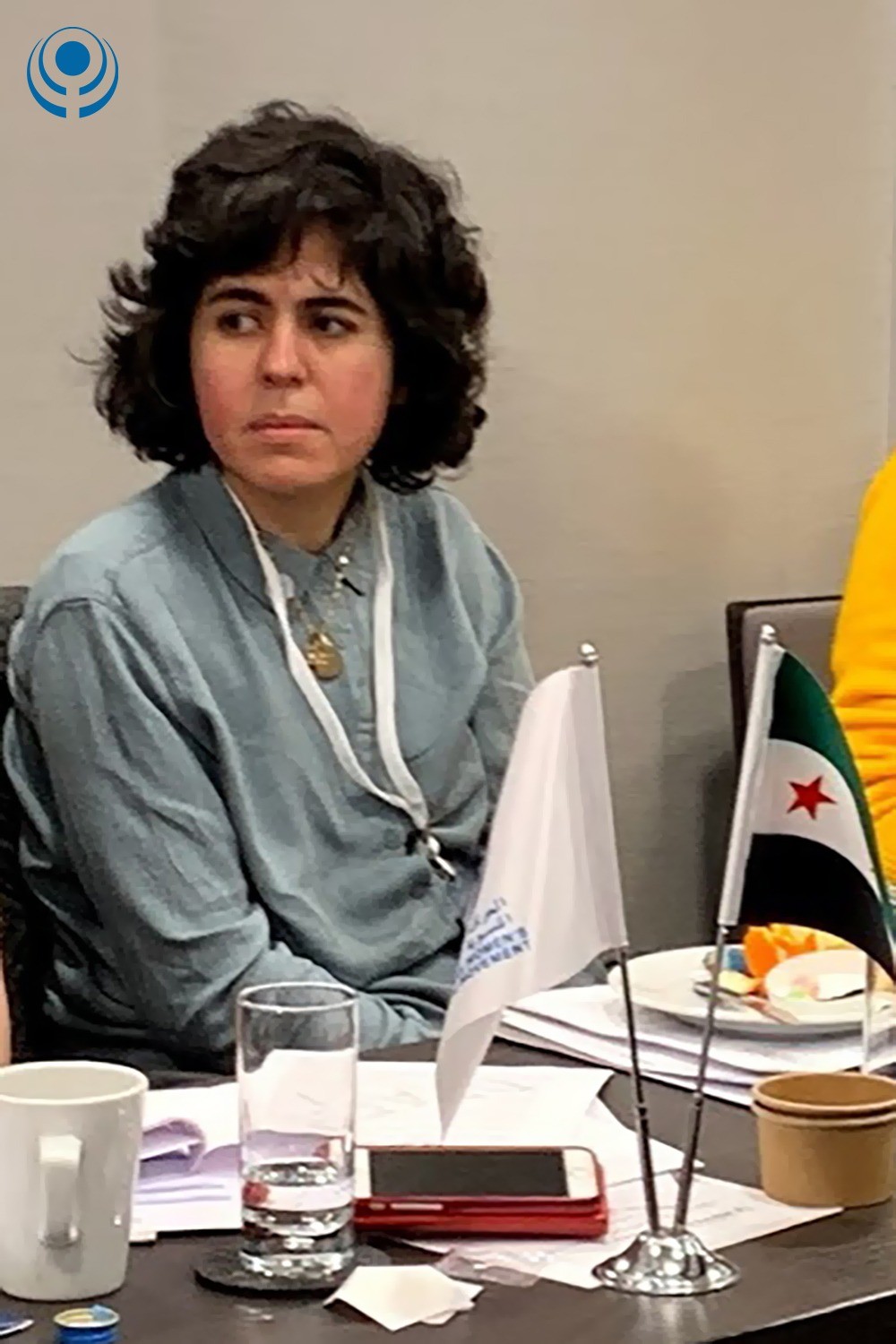 Shiyam Ghalyon, who is originally from the city of Homs, Syria, was born in 1990 in the United States and grew up there. Shiyam is a graduate of natural science and has been an activist since the beginning of the Syrian revolution. In 2013, she joined the Syrian-American council in Huston city. Currently, she lives in New York city and is a member of the Syrian Women's Political Movement.
Since the beginning of the Syrian revolution in 2011, Shiyam Ghalyoun started voluntary work with a group of Syrian young female and male activists living in the united states, when she was still a university student at the time. In 2013, she decided with a group of activists to raise funds and go to Syria with one of the charities to distribute financial aid to the displaced people in Idlib and Aleppo camps and other areas attacked by the regime. "It was important to meet activists in those areas to be more acquainted with them, which facilitates working together." says Shiyam.
Her political activity started in the United States after her return from Syria in 2013; she joined the Syrian-American Council based in Huston where she was living then. Her activity with the council continued for two years; first in the media department and later as the president of the council.
In media department, Shiyam prepared broadcasting content to inform people about political development and invite them to activities and events relevant to the Syrian revolution, including movies and concerts. Through the council, they also held activities for discussing any decisions on Syria.
Shiyam was interested in Syria-related events in the American political circles, and contributed to delivering messages and demands of Syrian activists to influential American entities like the United Nations and the Security Council.
"To all Syrian Women and mothers of martyrs and detainees I say, your rights will not be lost; we will work together to restore our rights. We have to maintain our strength and awareness of our rights, rejecting to compromise them under any circumstances; only then we can achieve change in our communities."
Shiyam says that though she is born and raised in the United States, and her visits to Syria were only for seeing relatives in Homs city, she felt sad and disappointed that the American people do not know the truth of what is happening on the ground in Syria. She wanted to feel that she is part of the cause and to offer something expressing her belonging to her country and feeling the suffering of her people inside Syria. Starting from her keenness to continue work for the cause of her people, she moved to New York city where there are many activists and persons interested in working for the Syrian cause, despite that it was difficult for her parents that she leave their house and move to live alone in another state, as she says.
Shiyam believes that it is important for the Syrian people after experiencing all forms of suffering with all its groups for 9 years to remain cooperating, united and tolerant to be able to continue the struggle for their cause. She says she will continue working in the public affair out of her belief that Syrian people are oppressed and deserve safety and freedom; all should call for releasing detainees in regime prisons and that all refugees, wherever they are, should feel that they are able to come back to their home one day, which is a human right that cannot be taken lightly.
Looking forward towards supporting and enhancing women participation in political work, their ability to participate in decision-making and believing that Syrian women can achieve change at all levels including political level, Shiyam joined SWPM.
Shiyam concludes by describing some of the happy moments she lived in the past 8 years. Her visit to Syria in 2013 where she met activists Raed Al Fares, Khaled Al Eysa and Osama Salloum, and her participation in the first general conference for the SWPM in Frankfurt, Germany in 2019. on the other hand, she says that most difficult moments she lived were when she heard that the regime arrested her cousin. The last thing she knows about him is that he is in Saydnaya prison.
Shiyam says: "To all Syrian Women and mothers of martyrs and detainees I say, your rights will not be lost; we will work together to restore our rights. We have to maintain our strength and awareness of our rights, rejecting to compromise them under any circumstances; only then we can achieve change in our communities."